Today was a joy! We flew out the door before 10am this morning to relish this blessed day of sunshine!!! Home for a quick lunch and out again for an afternoon of fun at our favorite wooden park. Even on days like this we take time to prepare at least an
infusion
or two. It is still winter after all and our bodies often need support for the challenges of the season.
I am just finishing up the supply of Laportea canandensis, or our native Woodland Nettle, that I harvested Spring 08. I usually stick to using herbs of the last season's harvest, but I had an abundance of this still in fine shape thanks to the spring and summer our family spent living in a tipi in the Sequatchie Valley (thanks to the generous folks at
SVI
). We selected our sight in late winter, and come spring realized that we were right in the middle of an incredibly expansive nettle patch! (Yes, our tipi was in a wet woodland setting, we now see the error in that.) I was very pregnant at the time, our babe was to be born there in August, so I busily harvested, ate, and dried nettle as long as it allowed, which surprisingly was well into June.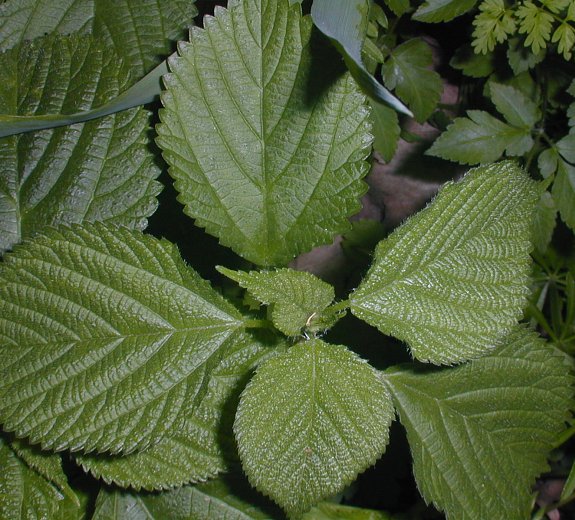 This plant is so prolific I could not even tell where I had harvested the day before. It is much friendlier than its english cousin, Stinging Nettle, though still tingly, and seems to hold off on blooming a little longer too. Most say it is interchangeable with Urtica dioica though I have noticed a few slight differences. In taste, it is almost malty, reminiscent of a root like burdock, and it doesn't have the seaweedy flavor of the english nettle (though I love that flavor). Most notably though is the mucilage. The spent leaves after infusion are slippery and when pressed release a gelatinous liquid more pronounced than in any Stinging Nettle I have used. To me this indicates that it may be even more beneficial to the urinary tract & kidneys.
As well as supporting urinary tract health, nettle is an amazing source of easily assimilated vitamins and minerals. It is a supreme tonic for nearly all. Men, women in all stages of life, infants and children can benefit from what it offers. In an infusion or used as a potherb, nettle is superb. If you incorporate one herb or many into your life, let nettle be first. A quart of nettle infusion daily will nourish you through any season or discontent, providing an excellent base for whatever herbal protocol is needed. Personally, I find it grounding and relaxing as well. If you really want to learn about the benefits of nettle, check out Susan Weed's book Healing Wise or her
website
, for I have greatly understated its virtue.
As always, I love and prefer the plants that live alongside me here in the Tennessee Valley. They nourish us, giving us air to breathe, providing food for our eyes and souls in the sights of our amazing woodland mountainsides, and generally enrich our lives. I encourage you to plan for early spring nettle harvesting. It is not far away. If this isn't possible, Stinging Nettle is widely available online and in local stores from great sources like
Mountain Rose
.
Do yourself a favor and drink some nettle soon!
Rachel